Michael Bertolini is the curator of the Warwick Historical Society. His residence is in one of the Societies properties, the Ketchum House on Church Street in Warwick. The Ketchum House was built by Aziariah Ketchum in 1810 around the same time he was hired to build the Old School Baptist Meeting House in Lewis Park, Warwick. While Aziariah was born in Warwick, he learned his trade in New York City. While there he became familiar with the local architecture of the Federal period. Consequently the Ketchum House looks architecturally like a New York City townhome. Come inside and see for yourself.


The dining room is the centerpiece of the house. Michael has recreated a formal dining room of the period.


The solarium is a recent addition to the house and faces the rear garden. The room is decorated in shades of blue and melon with touches of blue and white porcelain.


The solarium opens directly onto the rear garden. This is a very private oasis designed in a formal English garden style, with trimmed boxwood hedges, urns with ivy and geraniums, ferns and statuary.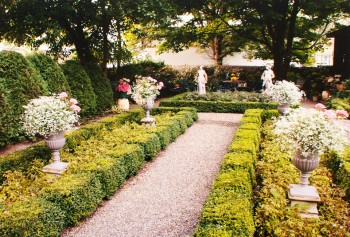 The sitting room has an assortment of English and French antiques, comfortable seating, paintings and bookcases filled to capacity.


One the second floor pride of place is given to a wonderful breakfront filled with a collection of Chinese export porcelain.


The guest room is dressed in a vintage chintz. The same fabric was a favorite of the late Brooke Aster who used it in her sitting room.